Ease your concerns about leaving your pet behind while you're away: Let our staff take care of him or her. We can accommodate most special care or needs your dog or cat might have. Just let us know when you make the reservation.
We provide amenities such as clean bedding and food and water bowls, but prefer if you bring your own food. House food is an additional charge. We can administer medications as well. In addition, we can provide grooming services or a bath before you pick up your pet.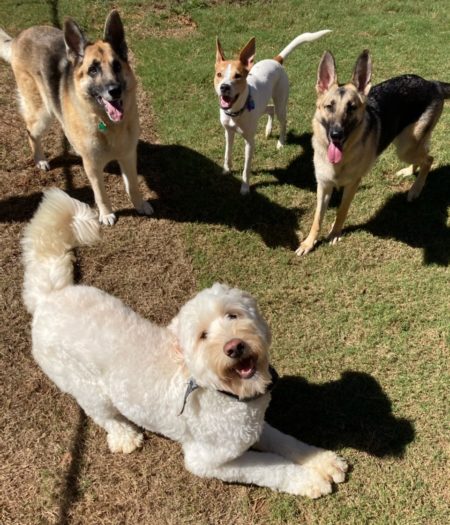 Cat Boarding – $24.00/night*
$2.50 per day if your pet eats our in house food (Hills Sensitive Stomach & Skin)
Overnight Dog Boarding – $38.00/night*
$2.50 per day if your pet eats our in house food (Purina ProPlan Prescription GI Diet).  Please note we do not allow raw diets while boarding.  If you have questions about your specific food being allowed in our kennel, please contact the office.
Your dog will be in our kennel and will have access to the outer portion of the run, and they will also have the opportunity to play in our fully fenced outdoor area multiple times a day. We include a FREE temperament test for your dog, should you choose to have them play in doggy daycare, to ensure they will be safe and enjoy their visit. If you prefer solo play for your pet(s), they will enjoy outdoor play with our kennel techs and toys! Fresh water is always provided inside and outside. Call ahead for boarding reservations as we fill up quickly!
Your puppy's early months are an impressionable period in his or her life, and the right training can make all the difference in your lifelong relationship with your dog. We work with S-K9 Solutions in our facility for dog training for all ages. Learn more
Peak Boarding Times
An additional $5 per night will be added to each night during peak / holiday boarding times such as Thanksgiving and Spring Break. We can email the entire list of dates for the year on request.
Medication Administration
We are able to administer meds if your pet requires for an additional $3 per administration.
Boarding Check In Questions
1) Emergency Contact and Phone Number
2) What is your pet's play group status? Group Play, Solo Play, Play Only with Family, Single Cat, Cat with only family, or Leash Walk Only
3) Do they eat kennel food or their own food? If they eat their own food, what is the name of the food?
4) How often do they eat? 1x a day AM, 1x a day PM, 2x a day, Other
5) How much do they eat for each meal?
6) Do they have any medications?  If so, we will need them in the original containers.
7) Are you interested in a bath or groom before pick up?  (Groom subject to availability.)
8) Are you bringing anything with your pet? We prefer that you keep most items at home, and we are note responsible for any items left with the pet.
9) Are there any behavior or temperament notes, we need to be aware of?
Vaccine Requirements
We employ best in class vaccine requirements to keep your pet as safe as possible while in our care.
Cats:
Rabies
FVRCP vaccine
Negative fecal test (yearly for indoor cats)
Dogs:
Rabies Vaccine
Distemper/Parvo (DHPP)
Canine Influenza (H3N2, H3N8)
Bordetella (every 6 months)
Negative Fecal Test (every 6 months)
Pick Up and Drop Off Hours
Mon-Fri :
Pick Up & Drop Off 7 AM – 5:45 PM
Sat:
Pick Up & Drop Off 8 AM – 12 PM
Sun:
Closed – No Pick-Up or Drop-Off